Wright Launches Exclusive, Private Flood Insurance Product in Texas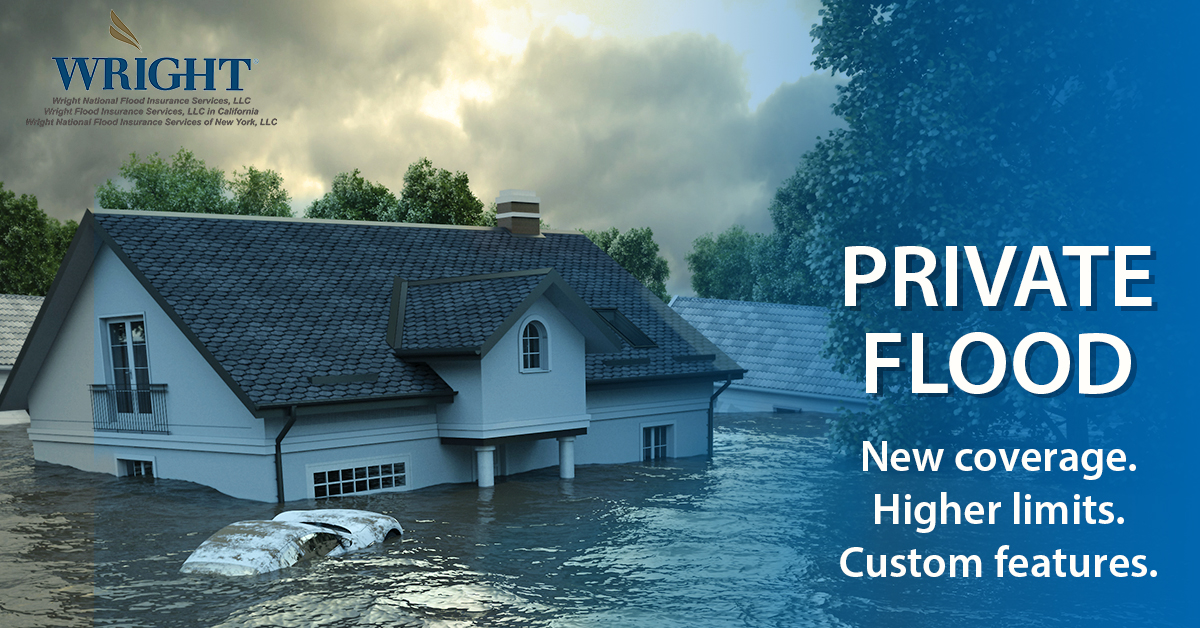 Homeowners in Texas now can purchase a private flood insurance product that best fits their needs from a company that has been handling that kind of protection for nearly 30 years.
Wright Residential Private Flood Insurance is now available as an exclusive and admitted product in the state of Texas. An "admitted" private flood insurance product requires state approval prior to being offered for sale and comes with continuous Texas Department of Insurance (TDI) oversight to regulate coverages and pricing.
James R. Watje, Wright Flood's senior vice president of private flood, said that's a huge benefit and protection for consumers:
"The unique difference in it, in addition to coverages and flexibility, is the fact we're coming in on an admitted basis that requires prior review and approval from the TDI," Watje said. "An admitted product requires state evaluation and acceptance, and that extra level of oversight and regulation requires you to come in with a quality product from a consumer perspective and the rates are mandated to be actuarily sound, not discriminatory and not excessive. Ultimately, rates must be applied and offered on a consistent basis from consumer to consumer.
"It's a solid product and a long-term solution in the marketplace," he added. "There are other excess and surplus lines products in the market today that aren't regulated by the state. That means they have unregulated flexibility from a pricing and coverage perspective that can change on a daily basis without notice, and certainly they don't have to ask permission from anybody." That creates volatility and some inconsistency. It can lead to rate increases at renewal or coverage changes at renewal that are surprises to the policyholder.
"We're trying," he continued, "to bring that stability and consistency that you'd see in standard homeowner's product or an automobile product without the major swings from a pricing or eligibility perspective that would surprise people when their policy renews."
Wright, which has handled and closed more than 200,000 flood claims and paid out $11 billion in claims payments over the past 15 years, has ramped up its use of technology and model-based rating methods to pinpoint specific risk locations and deliver highly flexible coverage, Watje said. The product offers higher limits than the National Flood Insurance Program, commonly known as the NFIP. That program tops out at $250,000 for structure coverage and $100,000 for personal property.
"This private flood insurance product in Texas provides additional coverages that are available that might not be offered through the NFIP, such as higher limits of up to $1 million in dwelling coverages in addition to optional coverages on an a la carte basis, depending on the individual needs of the property owner," Watje said.
Some of the other key features of the new program include:
No waiting periods
No elevation certificate required
Higher dwelling limits (up to $1 million)
Single deductible
Automatic replacement cost on both dwelling and personal property
Loss of Use, other structures and building ordinance coverages
Optional resiliency coverage
Watje emphasized that the resiliency coverage is and exclusive game-changer for flood coverage in Texas.
"A unique part of this is the resiliency coverage that isn't available from any other distributor," he said. "It allows the property owner to rebuild, repair or replace building elements with flood-resistant materials. This endorsement would allow for the extra expense of putting in the more resilient material."
Watje also stressed that this program is valuable for Texans from El Paso to Galveston and Amarillo to Brownsville.
"It's offered statewide and is very location-specific," he stressed. "Whether you're exposed to storm surge because you're on the Gulf of Mexico or inland flooding, which was Hurricane Harvey, the product has the granularity to be able to price each individual property. You'll find that properties next door to each other may have significantly different pricing because of the fact of the risk for the peril of flood can be that different from one house to the next even on the same street.
"We're not competing with the NFIP," he added. "We partner with FEMA and the NFIP because not every risk is treated equally by all markets. Sometimes our pricing or coverages is better than the NFIP, sometimes the NFIP is a better choice for the consumer. Our partnership with the NFIP is simply to get more property owners insured across the country.
"We want more folks insured and protected which brings more resiliency, the ability to build back and financial stability for those property owners in those communities."