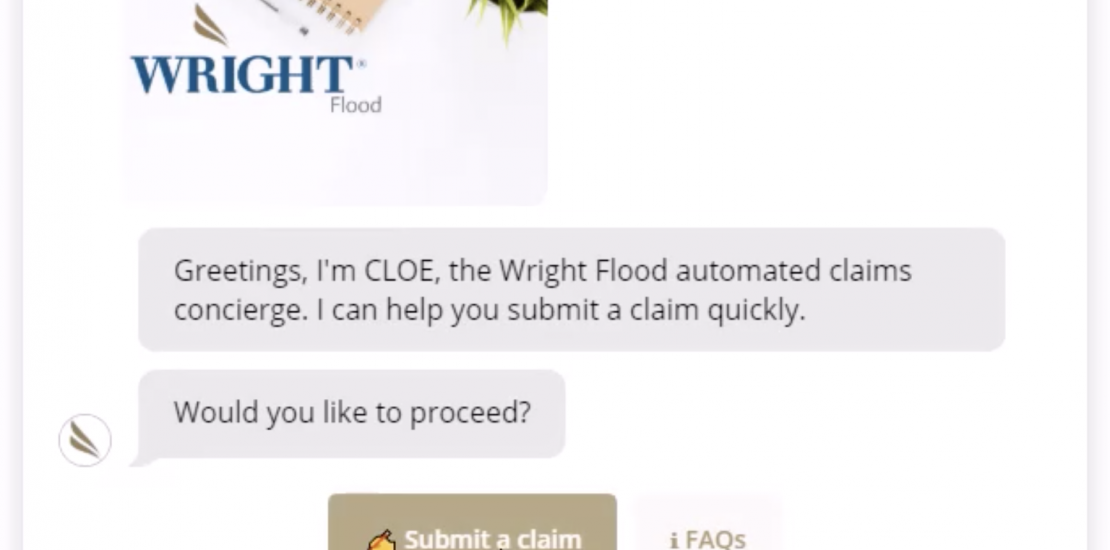 Wright Flood News: Wright Flood Becomes First Flood Insurance Company to Launch Artificial Intelligence Claims Bot
CLOE Bot Helps Policyholders Open a Claim Within Minutes
Wright Flood Insurance makes filing a claim easy with CLOE, the claims bot. It's an artificial intelligence (AI) chatbot that helps customers efficiently, quickly and securely open a claim online.
With it, the company adds to its existing array of tech-enhanced claims management tools and becomes the first flood insurance provider to offer this exciting AI technology. The CLOE claims bot can be accessed 24/7 at wrightflood.com and wrightfloodadvice.org on your mobile device or desktop.
"Artificial intelligence tools and chatbots are becoming increasingly popular in the customer service industry and amongst consumers, and we are thrilled to provide for our policyholders another innovative option for streamlining the claims process," said Tim Love, CIO of Wright Flood. "CLOE's fully-automated, conversational interface is encrypted, offering users peace of mind that their information is secure, and can be done within a few minutes."
To file a claim with CLOE, the insured, agent or third party must answer a few authentication questions. Through this process, they'll be notified if there is a possible duplicate claim. Then, the user answers a series of conditional questions that are personalized based on their responses, and with very little effort a new claim is opened. At the end of the process, they'll be provided with their claim number, adjuster information and a reference document advising them of what steps to take next.
Watch this short video on how CLOE works:
"At Wright Flood, we believe in making the claims process as easy as possible so that property owners can get back on their feet and focus on what's important after a flooding event," added Patty Templeton-Jones, president of Wright Flood. "Wright Flood has long been at the forefront of technological advancement in the flood insurance industry, and we remain committed to investing in the resources to continue to enhance our flood insurance offering."
Wright Flood's other claims processing innovations include the company's "claims via text" option that allows customers to file a claim by texting (727) 777-7066, and "status via text" where a claimant can find the date the last claims check was mailed. With both options, users receive automated text responses that assist them throughout the claims process. The company also has an online portal at www.wrightflood.com/claims, where property owners who have a Wi-Fi connection following a flood event can open a claim and track its progress online.
Wright Flood policyholders can also file a claim by emailing floodclaims@weareflood.com or calling (800) 725-9427.