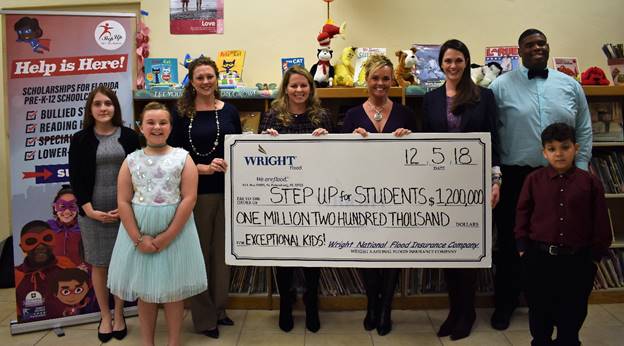 Wright Flood News: Wright Flood Makes $1.2 million Contribution to Scholarship Program
Wright Flood, the top flood insurance provider in the nation, made a $1.2 million contribution to Step Up For Students, a Florida-based nonprofit, which administers scholarships to lower-income schoolchildren.
Wright Flood's donation will fund scholarships for 178 Florida children, giving them the opportunity to attend the school that best meets their learning needs. Since partnering with Step Up For Students, Wright Flood has provided more than 845 scholarships.
"It is our pleasure to assist students from our home state, Florida, to attend the schools where they can learn best," said Patty Templeton-Jones, president of Wright Flood. "Partnering with Step up For Students has allowed Wright Flood to do a small part to improve children's education."
Step Up For Students is a nonprofit organization that helps manage the income-based Florida Tax Credit Scholarship Program. The program is funded by corporations with tax-credited donations and allows parents and students to choose between a K-12 scholarship to support private school tuition and fees, or one that assists with transportation costs to out-of-county public schools.
"We are honored to have Wright Flood as a partner in our mission to help lower-income Florida families access schools that best fit their children's unique learning needs," said Doug Tuthill, Step Up For Students president. "We are grateful for their generosity and their commitment to giving back to their community."
For the 2018-19 school year, Step Up For Students is serving more than 98,500 students throughout Florida with tuition scholarships valued at up to $6,519 per student for kindergarten through fifth grade, $6,815 for sixth through eighth grade, and $7,111 for ninth through 12th grade. More than 1,800 private schools participate in the scholarship program statewide.
*Pictured above: Adults (from left to right) are Step Up For Students Vice President of Development Anne Francis, Wright Flood VP of Sales and Marketing Kelly Nugent, Wright Flood Marketing Communications Specialist Dawn Forrest, and Step Up For Students Vice President of Development Jillian Metz. They are joined by students who are benefiting from the scholarship.