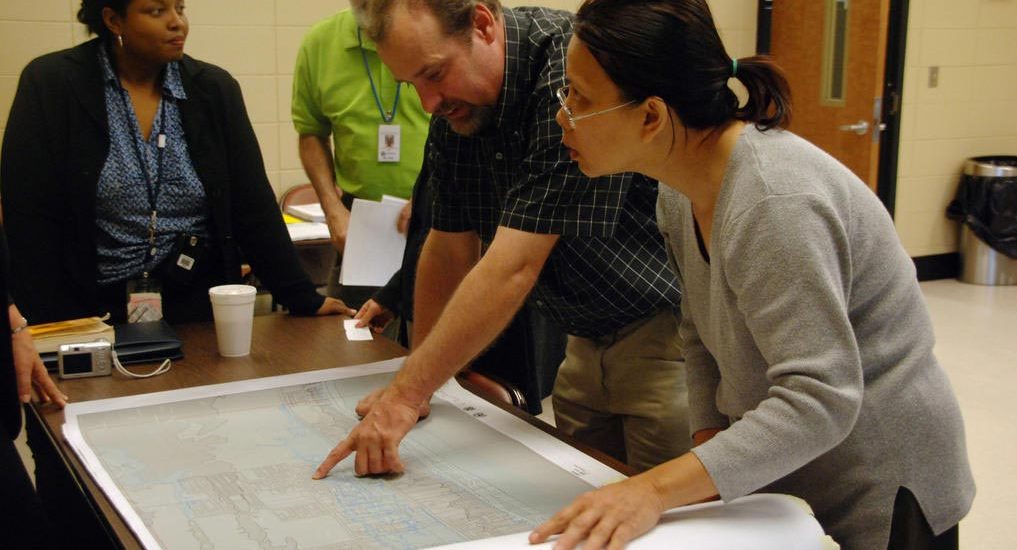 Wright Flood Insurance Review: Understanding FEMA's Monthly Update on Flood Mapping
Flood maps across the country are constantly changing, because flood risks are constantly changing. New building and development, weather changes, land use, and other factors all play a role in a community's shifting flood-risk landscape.
As a result, the Federal Emergency Management Agency (FEMA) constantly works to update flood maps to help inform residents and business owners of their flood risk, control private market flood insurance costs, and assess NFIP qualifications for communities across the nation.
Team members at Wright Flood Insurance review these updates regularly to ensure all of our policyholders are receiving the right coverage.  
On a monthly basis, FEMA sends congress an update on flood mapping that highlights the communities where potential flood map changes are underway.
While agents at Wright Flood Insurance review these notices regularly, anyone with access to FEMA's website can download the most recent notice and find out if there are changes planned for their community.
Here's what you need to know to find out for yourself if your community's flood map is changing.
How Do I Know if My Community is Updating its Map?
When you open the monthly notice, you'll see that the information is broken up into three separate tables that represent the different stages of the process. Each table shares the region, state, county name, case number, and more information you'll need to determine if your flood map is changing and to follow the progress of your "case" if it is.
First, the notice lists the communities where an estimated issuance of preliminary maps is taking place that month or in the following two months. At this stage, FEMA is working on preliminary Flood Insurance Rate Map (FIRMS) and Flood Insurance Study (FIS) reports, which include the proposed flood risk information for the communities in the list.
If your community is listed in this table, FEMA is working with local and state governments to schedule an official release date for the reports. The table also shows what quarter FEMA estimates there will be a community meeting about the changes and when the notice will be published in local papers, starting the appeal process.
The second table focuses on areas that FEMA plans to issue a revised preliminary map in the current or following two months. Much like the first table, the actual date of issuance is being worked out with local and state government leaders.
Lastly, table three lists the flood map studies where a preliminary FIRM and FIS report have been issued, a 90-day appeal period has been announced, a revised preliminary FIRM and FIS report have been issued, a Letter of Final Determination (LFD) has been issued, or if a new flood map became effective in the previous month.
The first two tables give community members insight into when the flood map update process is beginning in their community, giving them time to attend community meetings, submit scientific data and inform other members of the community about the potential changes.
The third table helps community members understand exactly when flood maps will go into effect by sharing the dates that administrative actions took place in a particular community.
Administrative Actions – What Do They Mean for My Community?
Table three in the notice shares information on when four different types of administrative actions took place during the previous month. While team members at Wright Flood Insurance review the notices regularly, this table is key for home and business owners looking to understand what's goin on in their communities. Below is a breakdown of each of those actions and what they mean for your community.
Preliminary Actions – When the "Actions Taken" column says "Preliminary" or "Revised Preliminary," it means an estimated preliminary or estimated revised preliminary map (from tables one and two) have been officially issued in a community in the previous month. That means preliminary copies of the FIRM and FIS report are available to the public to review, comment or ask questions. FEMA will schedule a meeting with the community to discuss the updates, and requests to review the non-technical information can be made during this period. Following the community meeting, a 90-day appeal period will follow, during which comments can also be submitted.
Appeal Start – If you see "Appeal Start" in the "Actions Taken" column next to your community, that means the 90-day statutory appeal period has begun for the proposed FIRM and FIS reports in your area. Statute 42 U.S.C. §4104 authorizes "any owner or lessee of real property within the community who believes his property rights to be adversely affected by the proposed determination to appeal, or the community on such individual's behalf," to appeal flood elevation and flood hazard zone determinations during this 90-day period, as long as the appeals are supported by scientific or technical data. FEMA then works with local and state representatives to incorporate necessary changes (if substantial, FEMA will issue a Revised Preliminary Map).
Letter of Final Determination (LFD) – The LFD determination means all appeals and comments regarding the preliminary or revised preliminary maps have been satisfied, and that the flood hazard information presented on the new FIRM and FIS reports is finalized. The letter will also establish a date, approximately 6 months in the future, when the new maps will become effective.
Maps Effective – For communities identified as "Maps Effective," all steps in the process have been completed, and the approximately 6-month implementation period is complete. At this time, effective FIRMS are now used by communities to implement flood mitigation techniques and floodplain management. Local citizens like you can also find out what flood zone your home or business is in, and how (or if) your flood insurance rates have changed.
Making the Most of Flood Risk Changes
If you are a Wright Flood Insurance customer, systems at Wright Flood Insurance review the newly updated maps automatically to determine if your flood zone risk has changed — or if your premiums will be reduced — and alert you how your coverage/policy may change.
If the map is changing in your community your agent can discuss next steps. If you'd like to speak with an experienced team member at Wright Flood, please call 866-373-5663.
Learn more about the flood mapping process, or find out if your community is going through the flood map update process at our Legislative Watch page.