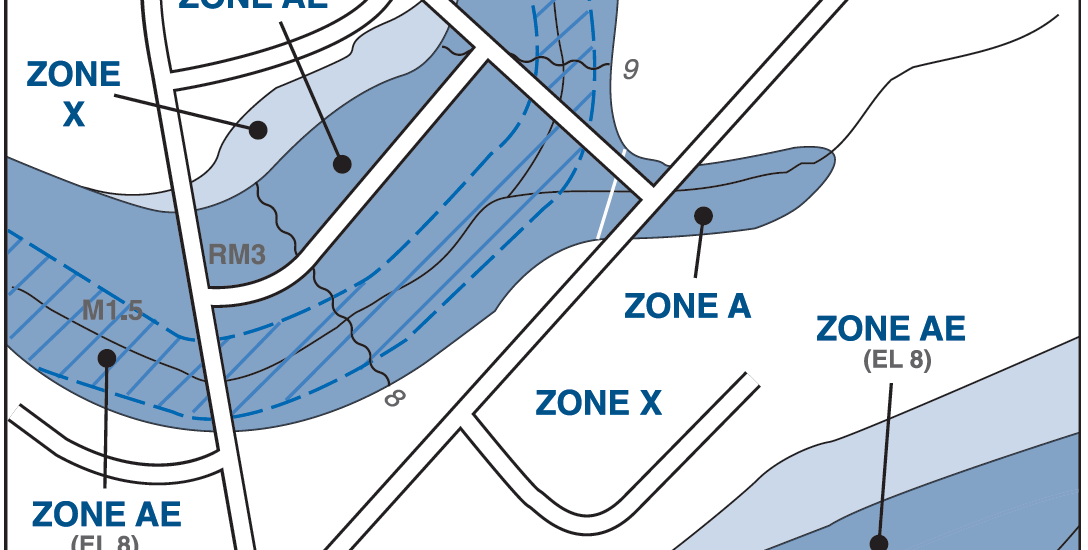 Wright Flood Insurance Review: What to Do When the Flood Map Changes in Your Community
Weather patterns, land use and development, and other factors constantly change your community's flood risk. As a result, the Federal Emergency Management Association (FEMA) is constantly working to adapt community flood zone maps to ensure residents have the information they need to stay safe.
Changes to flood maps in your community can impact insurance premiums, building code requirements and more.
When flood map changes occur, underwriters at Wright Flood Insurance review the newly updated maps automatically to determine if your flood zone risk has changed, if your premiums can be reduced, and alert you how your coverage/policy may change.
While underwriters at Wright Flood review these changes for policyholders, it's important to underst and how the changes affect your policy and community, and what your options are.
When a flood map is adjusted, there are four things that may happen to your property's flood risk and your NFIP policy. Here's what they are, and what you can do once you learn about the change.
Change from Moderate-to-Low Risk Area/Unknown to High-Risk Area
In high risk areas, flood insurance is required if you have a mortgage from a federally regulated or insured lender.
Luckily, properties that are newly mapped into a high-risk zone are eligible for a 12-month lower premium, after which premiums will raise no more than 18% per year until they meet the full premium for that property.
Property owners who purchase flood insurance up to one year after the new maps goes into effect will have an opportunity to take advantage of this reduced premium.
What should you do? Call 866-373-5663 to find a local Wright Flood agent, find out more details and secure the right coverage today.
Change from High-Risk Area to Higher-Risk Area
If you're in a High-Risk Zone and flood map updates put your property into a Higher-Risk Zone, you should already have flood insurance. However, because of the increased risk, many people see premiums rise when an update like this is made.
In instances like these, the NFIP allows older properties that were built in compliance with the flood map effective at the time of construction to use that zone to calculate their insurance rate. This typically translates to big savings.

What should you do? While underwriters at Wright Flood Insurance review these changes when they occur and work to ensure policyholders have the necessary coverage, you can still call 866-373-5663 to find a local Wright Flood agent, find out more details and ensure you secure the right coverage today.
Change from High-Risk Area to Moderate-to-Low Risk Area
Low-to-Moderate Risk areas do not carry a federal requirement for flood insurance, mortgage lenders may still require coverage, and it is definitely recommended.
While the risk may be lower, historical data shows that more than 20% of NFIP claims come from properties outside of high-risk zones.
What should you do? Existing policies can be updated to potentially save money. In many cases, your property will be eligible for a Preferred Risk Policy that could result in lower premiums and a refund for the price difference. If you're a Wright Flood customer, systems at Wright Flood Insurance review the updates automatically, adjust your premiums (no loss of coverage) and issue a refund, if any, for the balance.
No Change
Just because no change is made to your flood zone doesn't mean now is not a good time to discuss your coverage with your insurance agent.
As the nation's top provider of federal, excess and private flood insurance options, Wright Flood has been helping families find and secure the right flood coverage for more than 30 years.
If you're looking to lower your premiums, start with the tips below, then call the experienced team at Wright Flood at 866-373-5663.
Advocate for change in your community. If you feel like the flood map in your community is inaccurate, encourage community action. The Community Rating Service (CRS) recognizes communities for voluntarily implementing floodplain management practices that exceed NFIP minimum requirements. Communities that proactively participate are typically provided reduced premium rates.
Letter of Map Change (LMOC). Get one! At the end of the day, flood maps aren't perfect. If you don't think your property is properly mapped, FEMA allows home and business owners to request a more precise determination. A LOMA can be requested when a property is mapped in a high-risk zone but is above the base flood elevation. Apply for a LOMA here: https://www.fema.gov/letter-map-changes.
Increase your deductible. Like other types of insurance, a higher deductible means a lower premium.  Not all lenders allow it, but maxing out your deductible at $10,000 can result in up to 40% lower premiums.
Mitigate, mitigate, mitigate. Another way to lower flood insurance premiums is to mitigate your property's flood exposure. This can mean anything from filling in your basement to avoid foundation displacement to raising heating and cooling systems or elevating your entire structure when you renovate. Anything that makes your property less susceptible to flood damage during a disaster may help lower your premiums.
As you consider how to—or if you should—cover your home with flood insurance, keep in mind that floods can happen anywhere, from California and Michigan to Florida and New England.
If you want to protect your family and your home, call a Wright Flood insurance agent in your area at 866-373-5663 to speak about the best coverage for your property.