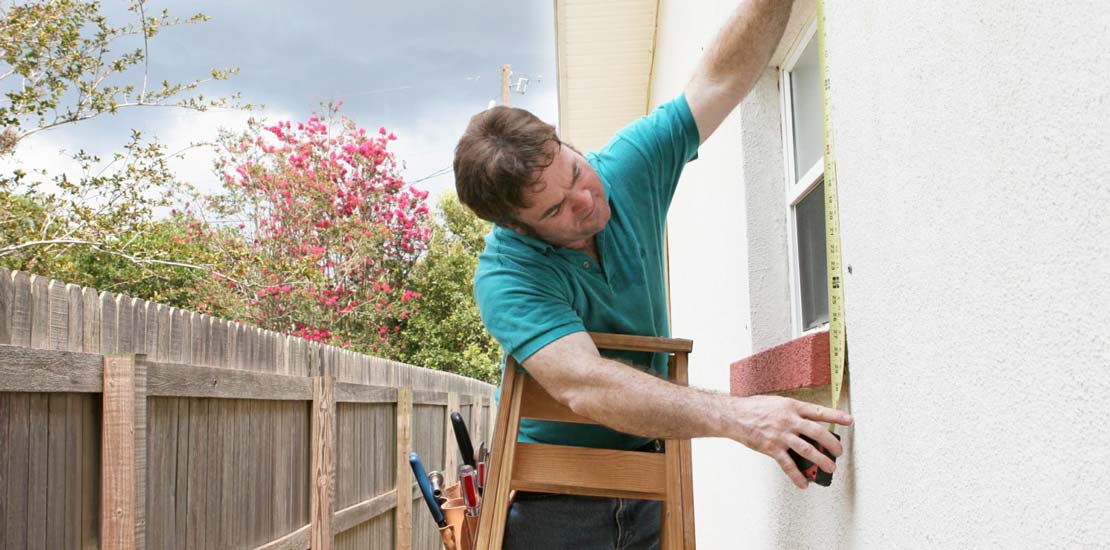 The Essential Hurricane Preparedness Guide for Your Home
When a hurricane strikes, it's not just high winds and rain that can cause life-changing damage to your home and your community. According to the National Oceanic and Atmospheric Association (NOAA) National Hurricane Center, dangerous storm surge and inl and flooding present the most risk for residents in high-risk areas and the lower-risk areas surrounding them.
In 2017, Hurricane Harvey caused more than $125 billion in damages, making it the costliest natural disaster since Hurricane Katrina. Flooding caused by more than 60 inches of rain contributed to a significant amount of this damage, a story that has almost become the new normal when it comes to today's mega storms.
While many may consider Harvey a 100 or 500-year flood, the reality is that storms of this magnitude are happening more often, which means you need to be prepared.
Make sure you, your family and your home are ready for hurricane season with this hurricane readiness guide from Wright Flood insurance experts.
What You Can Do Now:
Review your flood insurance policy now
Make sure your family is covered in the event of a flooding event. According to a March 2018 Milliman report to A.M. Best titled, "The Rising Private Flood Insurance Market," more than 60 percent of property owners faced uninsured flood losses during recent catastrophes.
Remember, flood insurance takes 30 days to become effective, so act quickly to ensure you're covered during hurricane season.
Locate your evacuation route and the closest hurricane shelter ahead of time
Have a plan to get there in the event of evacuation. Knowing where to go in an emergency is just as important as knowing when to leave. That includes designating a windowless interior room at the lowest level possible as shelter in place location for your family.
Gather shelter-in-place supplies for 5-10 days, starting with:
One gallon of water per person, per day (include water for your pets)
Non-perishable food (include pet food)
Flashlights
At least a one-week supply of medications
Battery-powered radio ( and extra batteries)
Cell phones and chargers
Can opener
Toothpaste and other personal hygiene items
Safeguard important personal documents either digitally via the cloud, in a fire-safe safety box, or both
This will ensure you're able to quickly retrieve them once the worst is over and save you the time and hassle of replacing them.
Prepare your property ahead of time to mitigate risk to your home and the homes around you
Elevate your home and/or exterior HVAC units to lower flood risk.
Clear debris from gutters and l andscape the property to ensure there are no hanging tree limbs that may cause damage.
Catalog your belongings on video or through images and transfer to the cloud.
Designate a place to move your car and outdoor decorations or furniture that may come off the ground during hurricane force winds.
Install permanent storm shutters/hurricane windows or prepare 5/8″ exterior plywood to cover all windows in advance of a storm.
What to Do When a Hurricane is Coming (6-36 Hours in Advance)
Check and restock your emergency preparedness kit
Ensure you have everything you'll need to weather the storm and its aftermath.
Review your hurricane preparedness plan with your family
Make sure everyone underst ands their roles, knows where to go, and knows how to contact one another in an emergency.
Gas up and pack up your car(s)
Do so around 36 hours or more before the hurricane comes to avoid lines and/or gas shortages. If possible, fill up an approved h andheld gas container so you have extra fuel on h and. Take the time to load up the car with any emergency supplies and personal items you will need if you are asked to evacuate.
Move potentially dangerous items inside
Designate an area and anchor down any items that will remain outdoors.
Board up all windows or install storm shutters
Make sure to do so 18-36 hours in advance.
Charge all necessary electronics
This will help in case you lose power.
What to Do During a Hurricane
Use your radio or television to get the latest local updates
Evacuate immediately if told to do so.
Find your designated shelter in place room
Stay put until emergency channels give the all clear.
NEVER seek shelter in a closed attic
As you may be trapped by rising waters in the event of a flood.
ALWAYS use generators or other gas-powered machinery outdoors
Keep them away from windows.
Avoid entering or driving through storm waters
As little as six inches of rapidly-moving water can knock you down and one-foot is enough to sweep your vehicle away.
What to Do After a Hurricane
Be safe
If you've evacuated, do not return to your home until authorities have given you the go-ahead. If you sheltered in place, listen to local emergency channels to find out when it is safe to go outdoors.
Stay out of flood waters
Even though the storm is over, it still is not safe to enter moving or st anding flood waters. Oftentimes, these waters can contain dangerous debris, sewage, glass, gasoline, and even downed active power lines.
Inspect your electrical equipment before using it
If it's wet, don't turn it on. If you're st anding in water, don't turn it on.
Contact your flood and homeowners insurance carriers as soon as it's safe to do so to file flood and structural damage claims
Read our easy-to-follow guide to file a flood claim and stay in touch with your adjusters throughout the process.
Inventory your personal property and separate the damaged from the undamaged
If possible, take photos of all damage caused by flooding for your flood claims adjuster.
Test drywall for moisture softness after flood water recedes
If soft, cut holes at base level to facilitate drying.
Run air conditioning, dehumidifier and fans constantly
If A/C unit does not operate, contact HVAC technician for repair and evaluation.
Stay alert
Hurricanes may change direction and/or bring extended rains and flooding to your community.