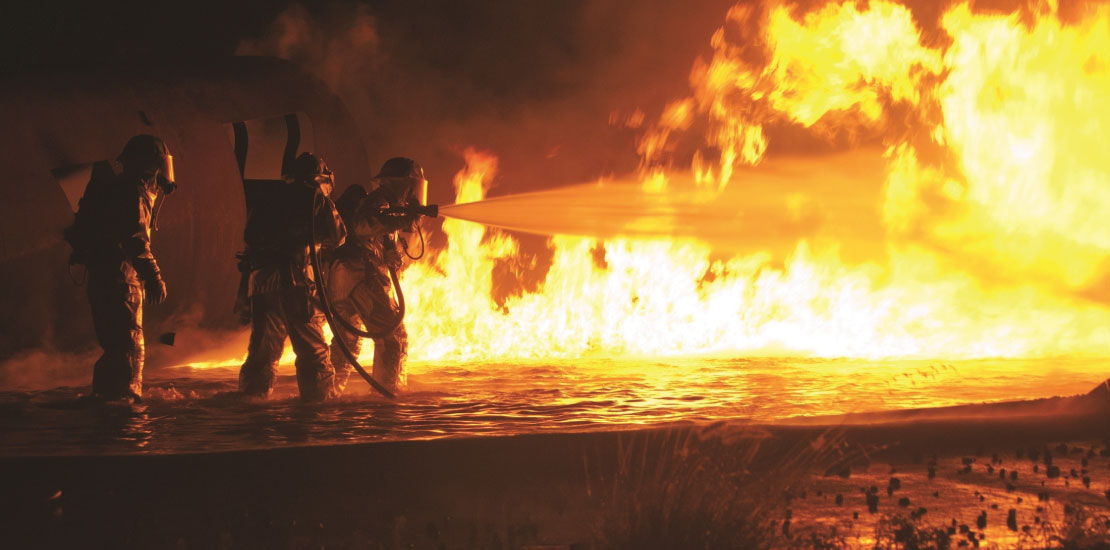 Everything You Need to Know About Wildfires & Flood Insurance
When you think about wildfires, the images that come to mind are images of roaring flames, burning trees, and firefighters doing all they can to contain the blaze. The immediate call is typically one of hope. Hope for wetter weather and life-saving rains to help contain the blaze.
While these calls for help from mother nature are well-intentioned (and much needed during massive wildfire events), the experienced team at Wright Flood knows that with life-saving rains come flooding, mudflows, and debris flows that endanger the lives, homes, properties and businesses of those who just underwent an already terrible ordeal.
When a large-scale wildfire occurs, it drastically changes the landscape, creating optimal conditions for dangerous flash flooding, mudflow and debris flow for up to 5 years after the incident. It's important for home and business owners in at-risk areas understand their flood insurance options to protect their families and their property.
For example, if homeowners located below a wildfire that includes federal land purchase flood insurance within 60 days of a wildfire's containment date, they have the opportunity to have the 30 day waiting period waived.
To learn more about flooding after wildfires, how it can affect your family, and how to protect your home or business, check out these facts from FEMA.gov:
Flood After Wildfires: Having Flood Insurance Is Important
Floods are the most common and costly natural hazard in the nation. After a wildfire, the flood risk increases significantly. The time to buy flood insurance is now. Homeowners, renters and business owners need to protect themselves financially from the devastating  losses flooding can bring–including after a wildfire–before the next weather event occurs.
Wildfires Increase Flood Risk
Large-scale wildfires dramatically alter the terrain and ground conditions. Normally, vegetation absorbs rainfall, reducing runoff. However, wildfires leave the ground charred, barren, and unable to absorb water, creating conditions ripe for flash flooding and mudflow. Flood risk remains significantly higher until vegetation is restored—up to 5 years after a wildfire.
Flooding after a fire is often more severe, as debris and ash left from the fire can form mudflows. As rainwater moves across charred and denuded ground, it can also pick up soil and sediment and carry it in a stream of floodwaters. This can cause more significant damage.
Homeowners And Renters Insurance Don't Cover Flood Damage
A flood does not have to be a catastrophic event to bring high out-of-pocket costs, and you do not have to live in a high-risk flood area to suffer flood damage. Around twenty percent of flood insurance claims occur in moderate-to-low risk areas. And, do you know you are five times more likely to experience a flood than a fire during the next 30 years? Property owners should remember to:
Buy Flood Insurance. Most standard homeowners' and renters' policies do not cover flood damage. Flood insurance for properties considered to be, statistically speaking, at lower risk for flooding (outside the high-risk flood areas) is probably much more affordable than you realize. And it is likely to be the only policy that will help you if your property is flooded, including after a wildfire.
Will It Take 30 Days For My Policy To Become Effective?
Typically, a 30-day waiting period from date of purchase will apply for all new business and increased coverage requests. However, under the Post-Wildfire exception, the standard waiting period does not apply if:
The covered property experiences damage caused by flood that originated on Federal land;

Post-wildfire conditions on Federal lands caused or worsened the flooding; and

An NFIP policy was purchased before or during the 60 day period following the containment date.
Be sure to ask your insurance agent or company about other possible exceptions to the 30 day waiting period.
How Can You Buy Flood Insurance?

If you're interested in purchasing flood insurance to keep your home and community safe, call 866-373-5663 to speak to a local Wright Flood Insurance agent.